Make Authentic Sicilian Pizza At Home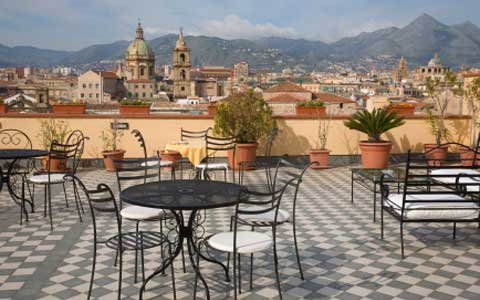 Sicilian style pizza is a pie prepared in the manner that originated in Sicily, Italy.
It is believed that the original Italian version, which is called "Sfincione", a foccacia bread with toppings, was first popularized in the western half of the island in the mid 1800s. It was most common in the province of Palermo, and included more dough, sauce, and cheese than Neapolitan style pizza.
Often the sauce was placed on top, to prevent it from soaking into the thick, bread-like crust. Authentic recipes call for ample sauce, onions, a strong cheese and anchovies.
When the pizza reached the shores of the U.S., introduced to the country by immigrant Sicilians, its form was slightly altered, and generally featured a thicker crust and a square or rectangular shape.
Occasionally in the US, thick-crust and deep-dish pizzas are mistakenly labeled as Sicilian, but the 'real thing' can be found widely in Sicilian neighborhoods in US cities, like Boston, Detroit, Connecticut, and Utica, NY.
Sicilian Pizza Recipe
Sal Ialuna
September 10, 2013
Prep Time: 3 hours
Cook Time: 15 minutes
Total Time: 3 hr, 15 min
Yield:

1 Pizza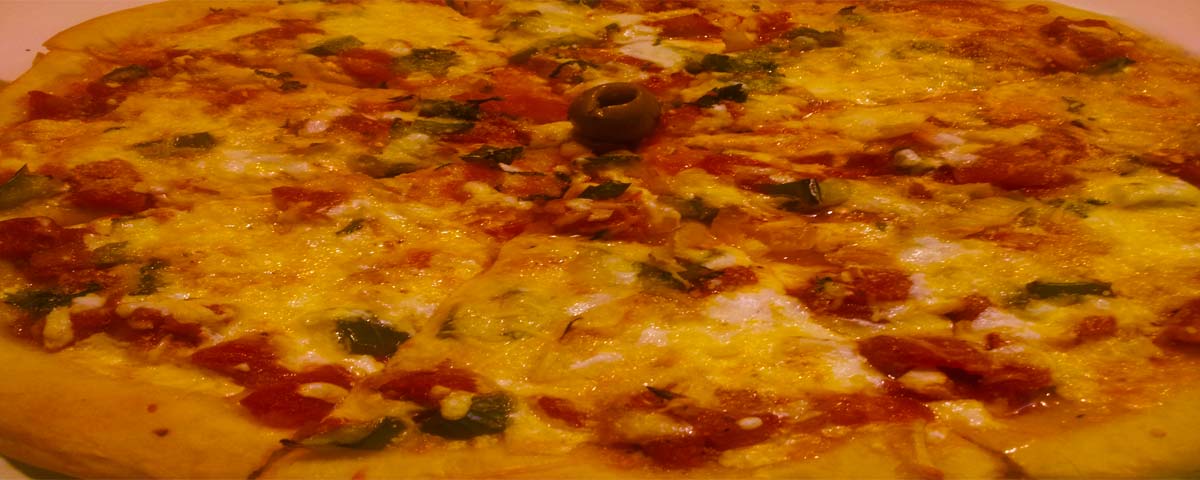 If you love preparing and eating authentic recipes, you'll enjoy the labor of love from making this traditional, Sicilian-style pizza at home!
Sicilian Pizza Ingredients
Sicilian Pizza Dough
| | |
| --- | --- |
| 4 C | of flour |
| 1 C | warm water, plus a little more |
| 1 | envelope yeast |
| 4 T | sugar |
| 1 T | salt |
| 2 T | olive oil |
Sicilian Pizza Toppings
Pizza toppings are a personal preference of course, and pepperoni is the number one topping in America. But for the authentic pie, you're going to top your dough with the following:
| | |
| --- | --- |
| 1 | onion, large, finely diced |
| 5-6 | tomatoes, Roma, peeled and finely diced |
| 1 lb | italian cheese, strong, shredded (i.e. Pecorino-Romano, Caciocavallo) |
| 3 | anchovy fillets, finely chopped |
| 1 T | dried oregano |
Tip: an easy way to peel tomatoes is to dip them in boiling water for 1 minute, and then plunge into ice water - the skins can be quickly and easily removed after the ice water bath!
Sicilian Pizza Directions
Preparing Your Dough
In the warm cup of water (it should be warmer than your body temp), put one T sugar and the envelope of yeast. Stir. Set aside for at least 10 minutes, until a foamy cap appears at the top of the water. If this doesn't happen, your dough will not rise, and you need to start again. Yeast can be finicky at times!
In a mixing bowl, put in 3 1/2 C of flour, 3 T sugar, 1 T salt, and blend. Add the 2 T olive oil, and, when the yeast/water is ready, start your mixer on low (with a bread hook), and pour the water slowly into the mixing bowl. Add more water if necessary until the dough forms a nice ball, then move your mixer speed to medium for 8 minutes.
At this point, the dough will be smooth, shiny, and non-sticky. Place in a bowl, covered, and set aside for 1-3 hours to raise. When it is nearly double in size, let rest one hour at minimum, or allow to rest overnight covered in the refrigerator. The dough will make two medium size pies, so if you are baking for only one or two persons, it's convenient to split the dough in half, pour a little olive oil in a freezer storage bag, and put one ball of dough in the freezer for another time (let thaw overnight in refrigerator when you are ready to use it).
At this point, the dough is ready to be rolled and shaped. Dust your countertop with the remaining flour, and use a rolling pin. If you don't have a rolling pin, a 2 liter drink bottle (full) is a good substitute.
Shape the dough into roughly a square shape, fold in quarters gently, for handling, and unfold again onto a sheet of baking parchment. Set aside.
Preparing Your Pizza
Brush the crust lightly with olive oil, and then spread the tomatoes evenly on the pie.
Add the diced onions and anchovies, and cover the entire pie, crust to crust, with the cheese.
Sprinkle the oregano on your pizza.
Preheat your oven to 500.
Slide your pizza on baking parchment onto the center shelf.
After three minutes, slide the parchment out from under the pizza.
Bake for 7 - 10 mintues

As your pizza is made with fresh dough, it will bake much faster than frozen pies you might prepare at home. Depending on your personal taste for level of doneness on pizza, you may cook it longer than 7 - 10 mintues. If you like your crusts crispier, you will bake it for a longer time.
Another approach is to do the pre-bake in the oven on the parchment, and then slide the half-baked pizza onto your charcoal grill, for a more rustic taste. Parts of the crust will bubble and char, and it will be very much like a pizza prepared in a small town bistro in Sicily!